About Don Hesse: Don Hesse worked for the Globe-Democrat from 1946 to 1984 and was appointed primary editorial cartoonist in 1951. Through syndication his political cartoons enjoyed a wide circulation, capturing the eye of long-term admirers like President Ronald Reagan and First Lady Nancy Reagan. Currently, many of Hesse's cartoons are on permanent display in the Library of Congress. Don Hesse died May 26, 1985 in Belleville, IL, his lifetime home.
About The Collection:Spanning the years 1952-1969, the Don Hesse political cartoon collection consists of 49 boxes of original drawings and prints. The collection is remarkably diverse in subject matter and encompasses a variety of international and domestic affairs that took place during a dynamic period in contemporary history. For many Americans, the 1950s and 1960s were marked by significant socio-political uncertainties. From the Cold War and Vietnam conflict to Jim Crow segregation and the fight for civil rights, Don Hesse's cartoon series portrays a diverse spectrum of political and social American history. The following is a mere sample of cartoon illustrations available in this extensive collection.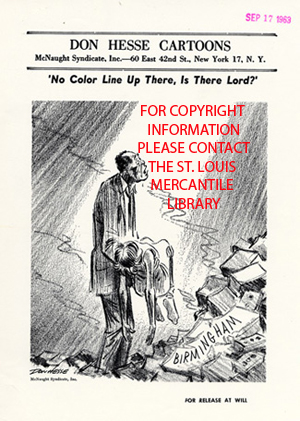 "No Color Line Up There, Is There Lord?"
Published on September 17, 1963.
Item Location: Box 34 Folder # 3474
This powerful image is in reference to the Ku Klux Klan bombing of the Sixteenth Street Baptist Church in Birmingham, Alabama. The bombing occurred on September 15, 1963 and took the lives of four young girls attending Sunday school.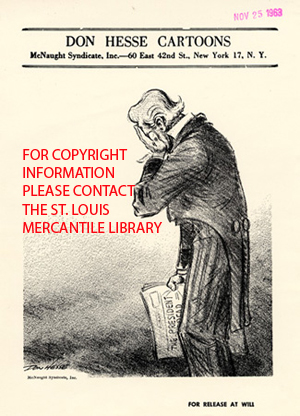 JFK Assassination/ "Weeping Uncle Sam"
Published November 25, 1963
Item Location: Box 43 Folder #3283
Hesse's illustration of a weeping Uncle Sam captures the collective grief felt by Americans after President John F. Kennedy's assassination in Dallas, Texas on November 22, 1963.